LHUSD Launches Podcast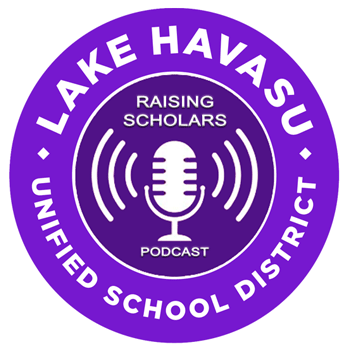 ---
The Lake Havasu Unified School District has launched a new podcast series to take a deeper dive into "the mission and vision of learning that is being carried out at LHUSD." Andrea Helart, LHUSD communications and community outreach coordinator and host of the podcast, says the new show is designed to provide parents with "tips, tools, and advice" concerning their child's education.
The podcast, called Raising Scholars, releases twice a month and so far has two episodes posted — LHUSD Vision of Learning with Superintendent Rebecca Stone and Common Knowledge: Understanding the Sequence with Christie Olsen. Helart says episodes like the one with Olsen concerning common knowledge (LHUSD elementary schools curriculum) should help break down huge topics into digestible information.
"Most people, one don't understand why we chose the curriculum and two they don't understand why the curriculum is good for the kids," Helart said. "So for people who don't want to go through the book, Christie Olson and I sat down and had a conversation (about the curriculum).
Most of the podcasts that will be released this year have been planned out, Helart says, and will cover topics like addressing student needs and the importance of art education. In addition to talking with administrators and teachers, Helart says she also plans on having students and LHUSD alumni on the podcast.
If the podcast proves to be successful and popular, Helart says she would want to do more podcasts to further show families the inner workings of LHUSD.
"I would like eventually to do a staff (podcast) too so we can cover professional development topics," Helart said.
story by Joey Postiglione, Today's News Herald
Jan 27, 2023